As most of you know I am a big believer in up-cycling items. If I can find a purpose in something I will use it. I am not ashamed to admit that sometimes this turns into a major craft fail.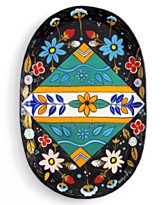 There are some very amazing people in Haiti that do the same thing (though I am sure they have a lot less craft fails than I). They use stuff like recycled oil drums, paper mache, stone and more to make beautiful art that speaks wonders of their culture and history. Not only do they make these gorgeous pieces of art but they use those skills to provide for their families.
(I am really in love with these watermelon bowls)
After the horrific earthquake in January of 2010 the Haitians had an even harder time of making a living... In response Macy's, in partnership with Fairwinds Trading and Brandaid Haiti, are helping these same people by providing them with a audience in which to show their art to and offer you the chance to purchase some as well! This awesome program is called
Heart of Haiti
.
By purchasing one of their beautiful handmade items you are helping these men and women support their family by doing something they love (22% of every purchase goes to the artisan). You are helping prevent starvation, help send children to school, rebuilding homes, and providing the opportunity to access healthcare.
I am sure that most of us "crafty ladies" can agree and understand what one of the artisans, Isador, (read more about the artisans
here
) when he says "When an artisan creates, it is like a love in your heart."
As we are approaching the anniversary of the devastating earthquake, I try to remember that I am fortunate to be living where I am and to have what I do. I hope that you can find it in your heart, if you can, to help these good folks make a living and get back on their feet.