When I was coming up with a pattern and putting together two owls for my son I had no idea that they would be so popular that as soon as I posted them on facebook I had 3 different people asking me how much I would charge to make one for their little one!
I am so happy because I can really use the money right now since I want that bias tape maker christmas is coming up and R.bug's birthday is a month after that!
So without further ado... Presenting Owlie James!
[Already popular at our house]
Enjoy.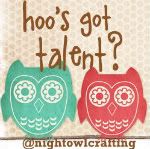 Linking to some of these parties...